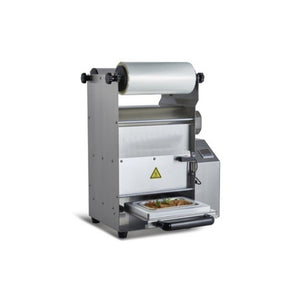 Semi-Automatic Tray Sealer HTS-Series
Our SEALTECH series of Semi-Automatic Tray Sealers are a fast and easy way to seal small quantities of trays at an affordable price.
This semi-automatic sealing machine is a table top model used for preformed trays and it will seal around the tray by an electric driven motor. The temperature and sealing time can be set depending on the type of tray and material being sealed. As you push the tray in the film is automatically moved over the top of the tray to be sealed, remove the tray and peel off any excess film, this machine is designed to ensure that each compartment of the tray is separately sealed.
Features digital temperature controls, adjustable sealing timer and electric motor so no air is required. Constructed using #304 Stainless Steel. Will run CPET or APET trays.

FEATURES:
Stainless steel frame construction

Digital temperature control

Seals with an electric motor-no need for air

Adjustable sealing timer

Will run either APET or CPET trays

Choose from 2 seal sizes

Via special order - lead time varies

8-10 sample trays will be required prior to purchase for evaluation and testing