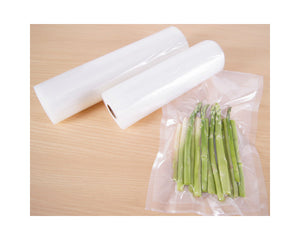 11" x 50ft Channel Vacuum Roll, 50ft
Regular price $19.50 Sale
FEATURES:
Suitable for home vacuum sealers such as FoodSaver, Seal-A-Meal, Fresh Guard, PRO-2300 series, FoodShell, and many more
Meets FDA guidelines for food usage
Great for storing and freezing applications
Clear multi layer barrier film 
Low oxygen transfer rate

Width:  11"

Length:  50ft 

Thickness: 3.5mil channeled film with 4mil smooth poly/nylon
Make your own vacuum pouches with our channeled vacuum tubing.  Channeled (embossed) vacuum rolls are designed for non-chamber machines.  These rolls have a special embossed surface which creates channels for the air to be pulled directly from the pouch itself.  Channel vacuum rolls will virtually stop oxygen from penetrating through the bags.  Using a vacuum bag will significantly extend the shelf life and flavor of your food, as well as prevent freezer burn and dehydration loss, eliminating waste.