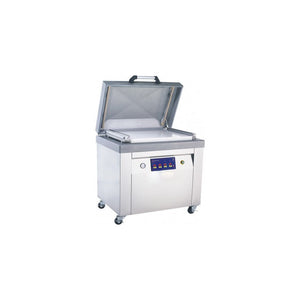 26" Single Chamber Vacuum Sealer w/ Busch 021 Pump w/ Left & Right Seal Bars w/ 6mm seal
Regular price $12,155.00 Sale
FEATURES:
Perfect for heavy duty applications

Stainless steel construction

PD-01 Basic Digital Control Panel

#304 Stainless Steel Construction

Flat Chamber for Easy Cleaning

Bladder Activated Sealing

Water Resistant Electrical Box (IP 56)

Durable Removable Aluminum Cushion Bar

Busch RA0040 (2HP) Vacuum Pump

Air Assist Sealing

6mm Seal Wire (standard) or Cut-Off (option)

Voltage:  220V

ETL, UL, NSF, CE, and CSA certified

Ships via LTL Freight only

Via special order
Our 220-volt series of single chamber machines features a 100 percent stainless steel frame and lid. Both models come equipped with dual seal bars located in the lid with a flat deck design. Removable cushion bars and filler boards allow for quick and easy cleaning of the deck surface. Our industrial series chamber machines are built to withstand the harsh conditions that exist in many facilities. Fitted with a fully enclosed electrical box and the optional PNC-01 water-resistant control panel, these machines can withstand the effects of overspray during clean up.
Busch vacuum pumps come standard in our machines with the option of upgrading to a larger capacity vacuum pump. By selecting optional features such as gas flush, top and bottom seal or lid height, our machines can be built to fit any need.
UL, NSF, and CSA certified