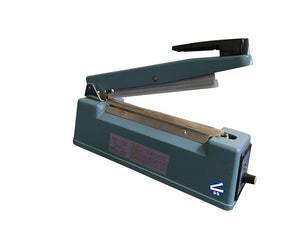 8" FS-Series Hand Sealer w/10mm Seal
Regular price $121.50 Sale
FEATURES:
Impulse sealing - no warm up time needed
Wide meshed seal width (10mm / .39")
Timer for variable sealing materials
Can seal plastic tubes (prior testing required)
Impulse hand sealers seal poly bags and any thermoplastic materials quickly and efficiently without a warm-up time.  The PFS-200B is equipped with a plug-in electronic timer to control the sealing time needed for different material thicknesses.  Once the timer is set, the sealer will provide a consistent seal.  We recommend the operator hold the seal bar down for a few seconds after the light goes out to ensure that the seal has enough time to cool and set.
For sealing tubes, we have found the PFS-200B to be a great value priced option for small and sample production.  Always send us a sample first to determine if the PFS-200B will be an appropriate choice.