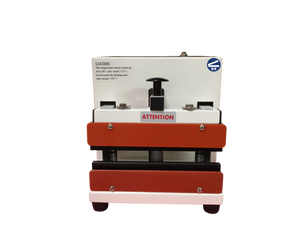 8" W-Series Table Top Direct Heat Sealer, Electromagnetic Control w/ 10mm Seal Width and Meshed Seal Bars
Regular price $913.50 Sale
FEATURES:
Consistent Seals Each Time

Easy to Operate   

Strong 10mm Seal Width w/ Meshed Design

Protector Bars Around Sealing Jaws

Seals a Variety of Thermoplastic Materials
WNS-200D is a table-top direct heat sealer that can seal many different types of thermoplastic materials including aluminum foil, Kraft paper, cellophane, mylar, polypropylene, poly-nylon and other thicker materials.  Please note:  direct heat sealers cannot seal polyethylene.
Material up to 8" wide and 20 mil thick can be sealed.  The sealer is equipped with a digital control panel to guarantee consistent and reliable sealing.  Sealing bars are enclosed with heat resistant plastic bars for safer operation.
Easy to operate.  Set the temperature and seal time.  (Note:  Temperature is in Celsius, not Farenheit).  Always start with the minimal setting and slowly increase temperature as needed.  Insert material between the seal bars and lightly bring the seal bars to meet using the knob.
The WNS-200D sleek and compact design makes the unit suitable for manufacturing facilities with small work spaces.