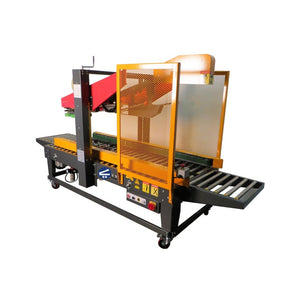 Automatic Uniform Flap Folding Carton Sealer
Regular price $10,750.00 Sale
This operator-free machine can be fed from a production line directly into the CS-558F where the machine will fold the top flaps and automatically tape closed. The CS-558F applies a single tape strip to both the top and bottom of the case simultaneously. This four belt drive design is a heavy duty versatile machine designed for dependable performance and easy operation. The CS-558F can be easily adjusted in only seconds to process a different size carton.

FEATURES:
Fully automatic uniform carton sealer with easy manual carton size adjustment

Side drive belt design with 2 top drive belts and 2 side drive belts

Tape head with "Easy Thread" design

Interchangeable tape heads

Side pressure rollers to close box top

Fully adjustable legs

Unit must ship via LTL freight only.  Call us for rates.
OPTIONS:
3" (72mm) tape heads

Infeed conveyor

Exit conveyor

Stainless steel frame

Heavy duty locking casters