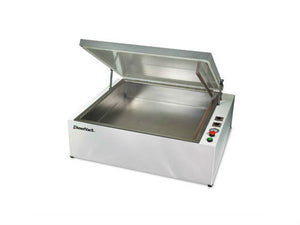 AVC-20 - 20" Table Style Vacuum Chamber Sealer - External Compressor Required
Regular price $5,200.00 Sale
Quickly and easily seal and vacuum your packages with the touch of a button.  The solution for your sensitive components packaging porgram, the AVC is hand assembled using top grade materials and components.  The AVC is compressed air-driven, eliminating any concern regarding noise, vibration, or heat generation.  Unlike electromechanically driven vacuum sealers, the design of the AVC-Series vacuum sealers prevents particle generation and oil contamination that often lead to costly maintenance and downtime.
Clean room compatible, the AVC is the ideal choice for tray, tape and reeled products, as well as popular shipping tubes.  Precision components guide the AVC's industry setting speed and ensure clean, wrinkle-free seals without any bag distortion.
Order an optional second seal bar and the AVC instantly doubles smaller package volume.
FEATURES:
Wrinkle free consistent seals each time

Easy to operate - one touch sealing

Stainless steel

Chamber size:  22"L x 22"W x 4"H

External compressor required - 18CFM@90PSI

Two year warranty
OPTIONS:
Gas flush (Flush your package with nitrogen to ensure your package is oxygen free)

Additional seal bar