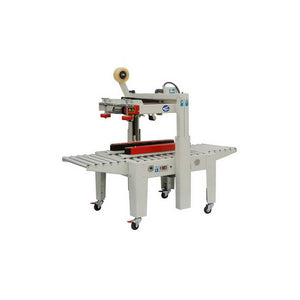 CS-5050B Semi-Automatic Carton Sealer
Regular price $2,656.50 Sale
Our CS-Series of carton sealers are operator fed and designed for heavy duty applications.  These machines are reliable, cost-effective and durable providing savings to your production process.  More importantly, these machines provide a professional looking seal.  The CS-5050B Semi-Automatic Uniform Carton Sealer with Easy Manual Carton Size Adjustment has a 4-belt design (2 side, 1 top, and 1 bottom).  The machine comes complete with infeed/exit conveyors, casters, power cord, and plug.
The operator simply folds the top flats of the corrugated carton and feeds it into the machine.  The CS-5050B applies a single tape to both the top and bottom of the case simultaneously.  The CS-5050B can be easily adjusted in only seconds to process a different size carton.  Excellent for heavier boxes.
FEATURES:
Adjustable height of table

Heavy duty frame

Manually adjust height and width of machine for each box size

Suitable for heavier cartons

Top/bottom and side driving

Operator feeds and folds flaps into machine

Optional:  stainless steel

Unit must ship via LTL freight only.  Call us for rates.