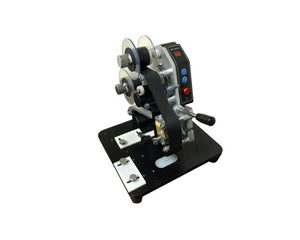 HP-241S Table-top Imprinter
Regular price $155.25 Sale
HP-241S is a lightweight and easy to use hot stamp imprinter.  Use this imprinter to print expiration dates, manufacturing codes, lot numbers, and much more! 
HP-241S can print on poly bags, poly cases, paper bags, aluminum, or other materials.  The spring-loaded imprinter head provides a clearly printed stamp on your material.  Ink dries as soon as it is printed leaving no mess behind.  Characters are easy to change.  Imprinter is equipped with horizontal and vertical guides.  The imprinter includes a built-in drawer for your typesets so typesets never get lost.
Imprinter Includes:   2 sets of numbers (0-9), 1 set each of "LOT", "EXP", "MFG"
Additional typesets  (A-Z), individual letters, number typesets (0-9) and ribbons (black, blue, red, and white available.
FEATURES:
Lightweight & easy to operate

Print expiry dates, lot numbers, and much more!

Spring-loaded to clearly prints on any type of poly material

Digital temperature  settings

Easily change your typesets