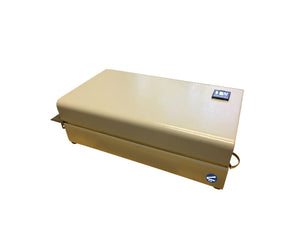 HRS-255 Rotary Band Sealer
Regular price $1,800.00 Sale
Our newest addition to our band sealer family is the HRS-255 rotary band sealer.  This sealer is ideal for sealing paper-plastic packages such as tyvek, foil, or other hermetic materials typically used for packaging medical instruments or disposable devices such as IV bags, suture kits, medical draping, bandages, gauge and other sterile products.            
The HRS-255 band sealer adopts an AC motor for quieter operation.  No gears or carbon brush resulting in lower maintenance and no oil pollution.  The sealer utilizes a heat plate rather than heaters and can reach 180˚C in 30 seconds!
Recommended materials for our HRS-255 band sealer would need to conform to EN868-5 and YY/T0698-5, EN868-4 and YY/T0698-4 or be a high density PE material (like tyvek) or aluminum foil compound material.  HRS-255 is easy to use with an Omron digital temperature controller for varying material thicknesses.
FEATURES:
Easy to operate  

Variable temperature control

Quiet operation

Fast warm up time (30 seconds to 180˚C)

Feeds left to right

Ideal for sealing paper-plastic packages such as tyvek or foil

Hidden handles easily accessible for easy transport