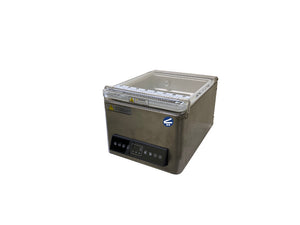 HVC-210T Compact Tabletop Vacuum Sealer
Regular price $1,000.00 Sale
FEATURES:
Compact & light unit – ideal for home counters

Touchscreen control panel

Stainless steel body

No external compressor required

Low vacuum option for softer items like bread and fruit

Removeable incline plate
Our HVC-210T is a lightweight counter top stainless steel vacuum chamber. Will also deliver a strong, consistent vacuum and seal every time. The HVC-210T is ideal for home use and sous vide applications.
The unit does not need an external compressor for operation. Simply place vacuum pouch into chamber with the open edge across the sealing bar. Close the lid to start the cycle and the lid will automatically open when cycle is completed. Vacuum time ranges from 20-60 seconds
The sealer is equipped with a digital control panel for setting the sealing temperature, sealing time, drawing air time, and cooling time. Once the lid is closed, the machine automatically performs the operations which can be followed visually on the control panel. The lid opens automatically when the vacuum sealing operation is completed.