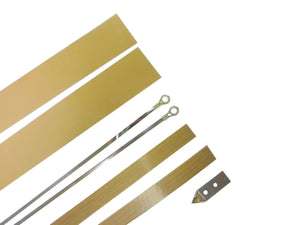 KF-Series w/ Cutter Hand Sealer Replacement Kit
Replacement Kit Includes: (2) 3mm, 5mm, or 10mm wide heating element, (2) 1/2" PTFE adhesive, (2) 1 3/4" PTFE cover, and (1) blade.  This replacement kit is compatible with the following models:
KF-200H / KF-200Hrnd / KF-205H
KF-300H / KF-300Hrnd / KF-305H
KF-400H / KF-400Hrnd
KF-520H / KF-520Hrnd / KF-525H
KF-200HC / KF-205HC / KF-210HC
KF-300HC / KF-305HC
KF-400HC / KF-405HC
KF-500HC / KF-505HC
**Please note:  sealers with 3mm heating elements cannot be interchanged with 5mm heating elements or with 10mm heating elements and vice versa.**
We recommend replacing the bottom PTFE adhesive strip (1/2" wide sticky backed-remove the liner) every time the element is replaced.  Place the PTFE adhesive strip under the element on the base of sealer.