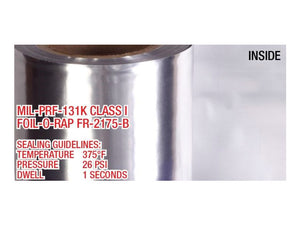 MIL-PRF-131K Class 1 Tubing
Regular price $123.00 Sale
FEATURES:
Crystal clear packaging in seconds

Keeps product from moisture, dust, oil and pilfering

Shrinks uniformly in all directions when controlled heat is applied

Skin tight wrapping without wrinkling

Runs on a variety of equipment

Length:  2,000ft

Thickness: 75G

Sizes available:  8", 10", 12", 14", 16", 18", 22", 24"
PVC centerfold shrink film is smooth, highly reflective and provides high clarity.  PVC film is very versatile and will perform well on low, medium, or high-speed applications.  PVC film is often used by suppliers of art and frame products, CD's, DVDs, and VHS tapes. Our PVC shrink film requires very low temperature to shrink (works great with heat guns). This shrink film is ideal for operators who work with sealers and shrink tunnels.  PVC film has the ability to resist ambient heat in transit and storage. 
Our PVC film shrinks with an MD of 35-35% and TD of 45-50%.  We recommend 75 gauge for packaging light products under 12lbs. And 100 gauge for products over 12lbs, but under 30lbs.