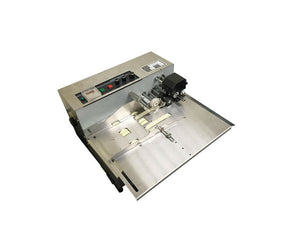 MY-380F/W Imprinter
Regular price $900.00 Sale
Our MY-380F semi-automatic imprinter is a dry-ink coding machine ideal for printing labels or pouches.  The imprinter can print on paper, non-porous plastic film, and aluminum foil.  MY-380F uses a cantilever type mechanism which is light and precise.  The horizontal printing position is controlled by an electronic device that can easily be adjusted as needed.  The object to be imprinted is selected by the machine's sensor.  The machine also has a unique stepping clutch and produces very little noise.  MY-380F is also equipped with a working tray (not shown) to collect imprinted items.
MY-380F is equipped with a fast dry-ink roller printing clear characters that are smudge resistant.  Color choices include black, red, yellow, and blue.  Typesets are easily changeable.  Imprinter is equipped with a printing roller that can be used for both T and R arrangement of types. Standard is T-direction.  R-typesets must be purchased separately.  For typesets in T arrange, machine can print 1-10 lines with 1-10 characters per line.  For types in R arrange, machine can print 1-8 lines with 1-8 characters in each line.
Before ordering, we highly recommend material to be sent in for testing.
FEATURES:
Easy to operate

Adjustable feeder try to accommodate different material sizes

Fast dry ink roller allows for clear and smudge resistant printing

High throughput of 300pcs/minute

Available voltage:  110V (United States and 220V (Europe and Asia)