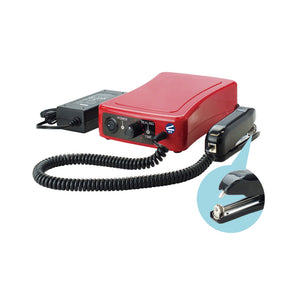 OnPak Ultrasonic Dot Line Sealer
Regular price $600.00 Sale
Our OnPak Dot Line ultrasonic sealer is the newest addition to our ultrasonic sealer line.  This sealer creates a  dotted line seal that is strong yet can allow packages to be opened from the end of the dotted sealing point.  It is simple and easy to operate.  Just turn on the machine, set the timer setting, and spot weld using the hand set.  No warm up time needed.
Easy to operate.    Turn on the power switch of the main unit.  Turn the timer knob to adjust the welding time.  Place material to be sealed between the handle jaws.  Slide the hand piece horizontally while gripping at the same time.
The sealer can be used in voltages ranging from 100-240V.
FEATURES:
Easy to use – weld non-woven materials, nylon bags, bubble wrap and aluminum bags without using heat

Good design for smart packing

Great alternative to tape, stapler, rubber band or glue

Light to handle - weld quickly without lugging around a heavy unit

No heat from the handset

AC adaptor – 110V or 220V