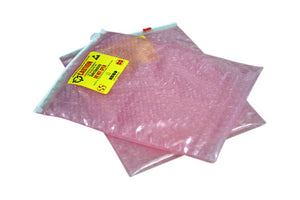 Pink Anti-Static Cushion Slider Zipper Pouches
FEATURES:
Advanced Slide-Rite closure system
Easy to open and close
More economical form of E.S.D. protection - eliminates the hazard of static damage to electronic components
Polycarbonate compatible, humidity independent, non-octanoic and is both non-corrosive and non-contaminating
Three layer Anti-Static Cushion Pouch: Pink Anti-Static poly, Pink Anti-Static bubble, and an inner layer of Pink Anti-Static poly; with double track red line Anti-Static zipper closure
Via Special Order only - contact us for more details
Our slider zipper bags provide an efficient and reliable means to open and close a bag.  They are easy to use.