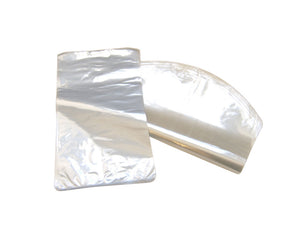 PVC Shrink Bags
FEATURES:
Crystal clear packaging in seconds

Keeps product from moisture, dust, oil and pilfering

Shrinks uniformly in all directions when controlled heat is applied

Skin tight wrapping without wrinkling

Packaged in 100, 250, or 500pcs

Thickness: 80G or 100G
PVC shrink bags are convenient for quick and easy shrink wrapping.  Speed up your packaging operations. Available in 80 and 100 gauge and in 500pcs/box (A), 250pcs/box (B), or 100pcs/box (C).
| Stock Number | Size | Pieces/Case | Gauge | Weight (lbs) |
| --- | --- | --- | --- | --- |
| SB-4-6-100A | 4" x 6" | 500 | 100 | 2 |
| SB-6-65-80A | 6" x 6.5" | 500 | 80 | 3 |
| SB-6-11-80A | 6" x 11" | 500 | 80 | 4 |
| SB-65-105-80A | 6.5" x 10.5" | 500 | 80 | 4 |
| SB-8-12-80A | 8" x 12" | 500 | 80 | 6 |
| SB-9-14-80A | 9" x 14" | 500 | 80 | 7 |
| SB-12-16-80B | 12" x 16" | 250 | 80 | 6 |
| SB-12-18-100B | 12" x 18" | 250 | 100 | 8 |
| SB-14-18-100B | 14" x 18" | 250 | 100 | 8 |
| SB-18-24-100C | 18" x 24" | 100 | 100 | 7 |