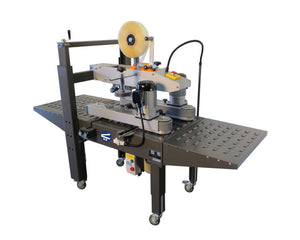 Semi-Automatic Uniform Carton Sealer w/ Side Drive Belts
The CS-2020 Semi-Automatic Uniform Carton Sealer with Easy Manual Carton Size Adjustment has a side-drive belt design and features our new tape head with "Easy Thread Design."  The machine comes complete with adjustable height legs, power cord and plug.
The operator simply folds the top flaps of the corrugated carton and feeds it into the machine.  The CS-2020 applies a single tape strip to both the top and bottom of the case simultaneously.  This two belt drive design is a heavy duty versatile machine designed for dependable performance and easy operation.  The CS-2020 can be easily adjusted in only seconds to process a different size carton.  Excellent for low profile, small, lightweight boxes
FEATURES:
Tape Head with "Easy Thread" Design

Interchangeable Tape Heads

Side Pressure Rollers to Close Box Top

2 Side Belts for Positive Feed

Fully Adjustable Legs

Unit must ship via LTL freight only.  Call us for rates.
OPTIONS:
3" (72mm) Tape Heads

Infeed Conveyor

Exit Conveyor

Stainless Steel Frame

Heavy Duty Locking Casters