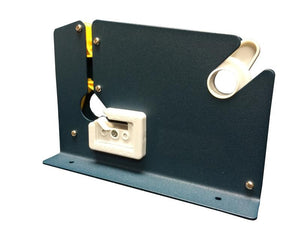 SL-605K Bag Tape Sealer
Regular price $21.00 Sale
Tightly seal poly bags in one quick motion.
FEATURES:
Cost effective
Tamper proof
Easy to use
Efficient
Durable

Using the SL-605K bag tape sealer dispensers is a simple and economical way to close poly bags with vinyl packing tape.  The SL-605K is capable of sealing 2,000 bags per use and use only 2" of tape per seal.
Dispensers are steel constructed with pre-drilled holes on the base for mounting on a work surface.  Sealers include a bag cutter to cut off excess poly bags.  Dispensers require no assembly or maintenance.  Standard sealers have a 3/8" wide throat and our heavy duty sealers (SL-808K) have a 5/8" throat.  Simply place PVC tape on the 3" core wheel and it is ready to use.
Easy to use.  Just twist the mouth of the poly bag and slide thru the slot (throat) with a downward motion.  The tape wraps around the bag neck instantly and the tape is trimmed automatically.  The excess plastic bag can be cut off with a continuous downward motion passing through the trimmer.
3/8" x 180yards (540ft) of polyvinyl pressure sensitive (PVC) tape with a 3" core.  The PVC tape is available is available in eight vivid colors:  clear, black, blue, green, red, orange, yellow, and white.