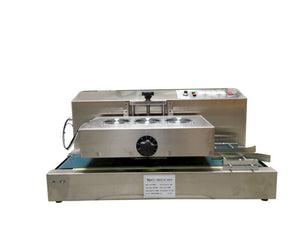 Table-Style Continuous Induction Sealing Machine(SS housing, 220V only)
Regular price $2,578.50 Sale
LGYF-200AX-II is a continuous induction sealer that will seal an aluminum laminated liner to the top of plastic containers to create a tamper proof product. Our induction sealer is suitable for containers such as plastic bottles, ABS, PE (HDPE, LDPE), PET, PP, PS, or PVC.
What is induction cap sealing? 
Induction sealing is a non-contact heating process of hermetically ("air tight") sealing rigid containers with a cap to provide a container that is tamper proof and can preserve freshness, deter pilferage, and prevent leakage while providing product integrity.  The process is simple and can accurately be repeated.
How does this sealer work?
When the aluminum foil is heated by the induction coil, the heat is then transferred to the heat seal film, which quickly reaches the melting point and becomes an adhesive to bond the cap foil and bottle. 
FEATURES:
Easy to operate – minimal operator training

Fast warm up time

Forced air cooling system

Stainless steel

Adjustable conveyor speed (up to 393 inches/min)

Voltage – 220V (customers that only have 110V will need an external transformer)