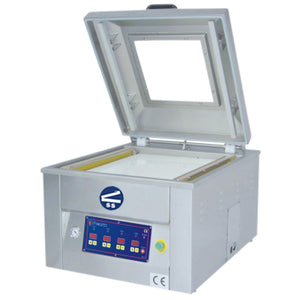 TC-520 Chamber Vacuum Sealer
FEATURES:
PD-01 basic digital control panel
Stainless steel construction
Clear see-through lid
Water resistant electrical box (IP-56)
Bladder activated sealing
Air assist Sealing
6mm Seal wire or electric cut-off seal bar
Busch vacuum pump
Seal bar options
Left and right side (TC-520LR)
Front only (TC-520F)
Custom features include:  PNC-01 microprocessor control,   soft air, bi-active sealing, gas flush system, twin beam sealing, 220V
UL, CSA & NSF Approved
Ships via LTL Freight only
Our TC series of vacuum chamber machines were designed with the user in mind. The ideal solution for small processors, retailers, restaurants, and laboratories, these items are affordable enough to be purchased simply as a backup while maintaining superior quality that one can rely on during years of heavy use. Primarily used for preserving fresh meats, vacuum packaging has been found to be beneficial in other industries such as pharmaceuticals and electronics.
All of our chamber machines are constructed of a high-quality stainless steel that will result in our machines looking better longer. With the option of basic digital or fully programmable controls, you can decide what will best suit your needs. The removable seal bars can be fitted with your choice of a single 6mm wide seal or opt for a thinner seal with hot wire cut-off if that is your preference.