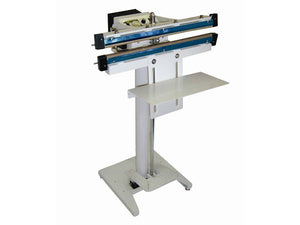 W-Series Double Impulse Foot Sealer
FEATURES:
Ideal for sealing thicker materials including some tubes
Available in 12", 18", and 24" seal lengths
Seal width: 5mm
Single or double sealing switch selector
Plug-in electronic timer for variable control
All metal construction
Heavy duty
No warm-up time
Sits on rectangular stand for stability
Our W-Series double impulse foot sealers are ideal for sealing thicker materials.  Available in 12", 18", and 24" lengths with a 5mm seal, the W-Series foot sealers are capable of sealing materials up to 20mil in total thickness.  Equipped with a single and double sealing selector switch provides flexibility of sealing various types of materials.  Depending on the thickness of the material, the user has the choice of one or two elements for top and bottom heating.
Sealers are equipped with a steel frame for added safety and stability.  A height adjustable working plate is also included.  The manufacturer's replacement kit includes two elements.  A taller stand and tension rod is also available adding 10" in height.  Working height is 30 1/4" but the extended standing tube provides a 42 1/2" working height.
Easy to Operate:
Set the timer.  Insert the bag between the two sealing bars and press down on the foot board.  Hold down the foot board for an additional 2-3 seconds after the timer light goes off to set the seal.