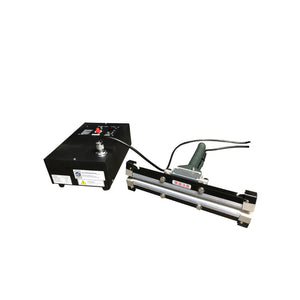 12" Double Impulse Portable Sealer with 5mm Seal Width
Regular price $630.00 Sale
FEATURES:
Heavy duty & easy to operate

Impulse heat w/ timer

Double impulse – two heating elements

Sealing length: 12" / Sealing width: 5mm

Extra long handle cord (9.8')

Recommended for poly materials such as polyethylene, polypropylene, PVC, PE laminated paper, and aluminum foil
WD-305HT is a heavy duty and easy to use portable sealer. Applications include sealing around oddly shaped products including drum or box liners for sealing around large objects.  WD-305HT is ideal for sealing polyethylene and laminated foils. Unit is equipped with an extra long cord (9.8') allowing you maximum portability.
Easy to Operate: 
Operator simply places item to be sealed in between the jaws and squeezes the handle shut. An indicator light on the main housing unit signals the start and finish of the seal cycle. We recommend holding the jaws together for an additional 1-2 seconds after the light has turned off for the best quality seal. Heat cycle is controlled by a timer.  The operator simply increases or decreases the heat as desired.