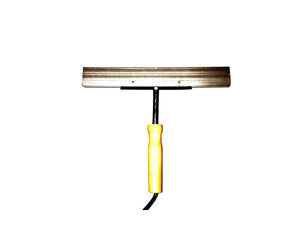 WT-250 - 10" Portable Heat Wand
The WT-250 portable sealer is ideal for sealing irregular items especially with the sealer's direct flat heated bar that measures about 10" x 1.5".  Because this sealer is direct heat, the heat wand can be used on coated aluminum foil, poly cello films, gusset bags, coated Kraft papers, waxed paper, cellophane, Mylar, coated PP, and other thicker materials.  The sealer is constructed of durable metal with an insulated wooden hand grip.
FEATURES:
Ideal for sealing irregular packages
10" heated bar
Economically priced unit
Optional 12" working mat available
Easy to Operate
Depending on the material, allow 5-15 minutes of warm up time for the sealer to reached the desired temperature.
Please do not touch the bar of the sealer until it has cooled down.  An optional insulated mat is available for purchase with the WT-250 sealer.